Trinity Catholic Primary Kemps Creek, is one of two Catholic primary schools in the Holy Spirit Parish of St Clair.
The parish includes St Clair, Erskine Park and part of Kemps Creek. The parochial district was founded in 1981. The parish complex was completed between 1983 and 1985.
Trinity children, families and teachers celebrate together regularly at our parish church. These celebrations are a vital part of our school calendar. Regular liturgies include our Opening School Mass, Trinity Sunday and our Year 6 Graduation Mass. Families are warmly invited to join us on these occasions.
Father Michael Belonio and Father Peter Tangey have a close association with the school. We see them here at Trinity regularly, talking to children, parents and teachers. They also join us in classrooms and support our liturgies at school, as well as attend whole school celebrations.
Our involvement in the parish extends to supporting St Vincent de Paul by fundraising and collection of food, blankets and clothing. The Sacramental Program, which focuses on Reconciliation, Confirmation and Eucharist, is also an important parish/school partnership.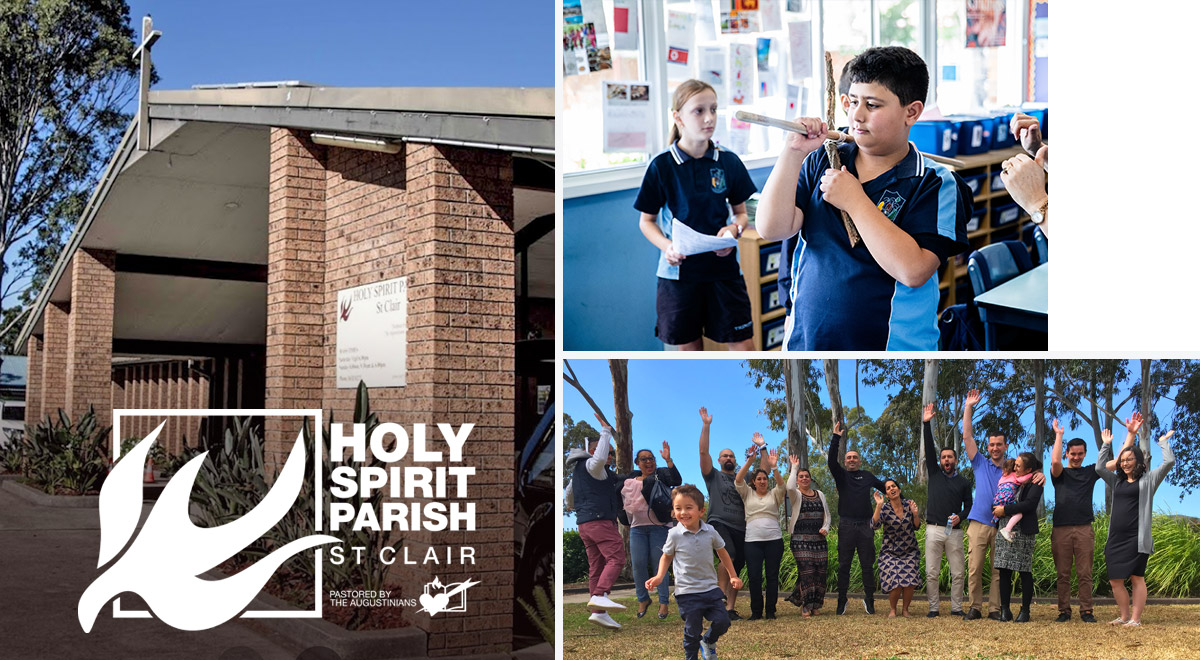 ---
Contact
Holy Spirit Parish, St Clair, is in the Diocese of Parramatta. The CBD is approximately 39km to the east. St Clair is situated at the foothills of the beautiful Blue Mountains and is easily accessible by using the M4 motorway. St Clair is located in the eastern suburbs of Penrith. It was formerly part of Our Lady of the Rosary Parish, St Marys.
The Parish Centre is located on the corner of Todd Row and Moore Street. One can exit the M4 motorway from either Mamre Road or Roper Road as you travel west and from Mamre Road only as you travel east. The Parish serves the areas of St Clair, Erskine Park and parts of Kemps Creek.
The Parish Clergy and Staff are pleased to assist, wherever possible.
Location
Cnr Todd Row & Moore St
St Clair NSW 2759
Phone 02 9670 8222
Email admin@holyspiritstclair.com.au
Website
https://holyspiritstclair.com.au