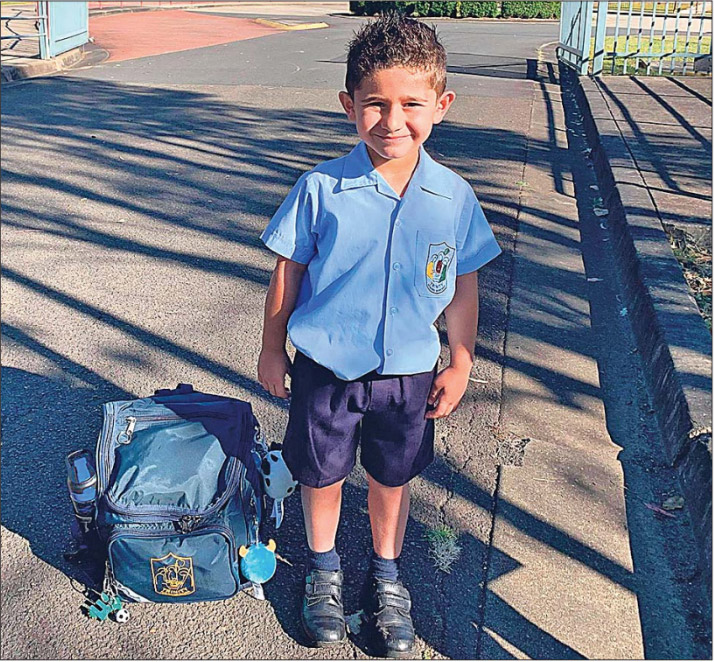 Kindergarten student Elias Hatzimarkou was excited to return to school. Photo Credit: Emily Feszczuk
Elias Hatzimarkou was all smiles as he waved goodbye to his mother, Sarah Hatzimarkou, at the school gates on Monday morning.
The five-year-old from Trinity Catholic Primary School in Kemps Creek was one of thousands of local Kindergarten, Year 1 and Year 12 students that returned this week.
Ms Hatzimarkou was relieved her son could resume proper classes after months of lockdown.
My husband and I were concerned when COVID hit about him having to do school from home, but we actually found Elias responded well to the one-on-one connection," Ms Hatzimarkou said.
With COVID cases still in the community, there are some mixed feelings about allowing children back into classrooms, but Ms Hatzimarkou said the social impacts need to be weighed up against the risk.
"Elias was so excited to go back and even though the kids are really young, not being able to see their friends and teachers has really affected them socially," she said.
The school was amazing with providing the education online and I know they will go above and beyond with COVID protocols to make sure our children and the teachers are safe.
Greeting students with bubbles, Trinity Principal Cathy Hey said it is like they never left.
"There were a few little nervous kiddies but lots of excitement and, once they got past the gate, there was lots of smiles in the playground as they all greeted each other," Ms Hey said.
Remote learning was challenging but we had great support from our parents and we are so happy to have the little ones back because teaching via Zoom is just not the same.
With teachers and high school students required to wear masks inside, learning will look different this year but is on track to get back to normal.
"We have had to put a few procedures in place to meet the public health guidelines but if it means we can get people back safely we are fine with that," Ms Hey said.
"The other year groups return from next week, so it will all be as it should be."