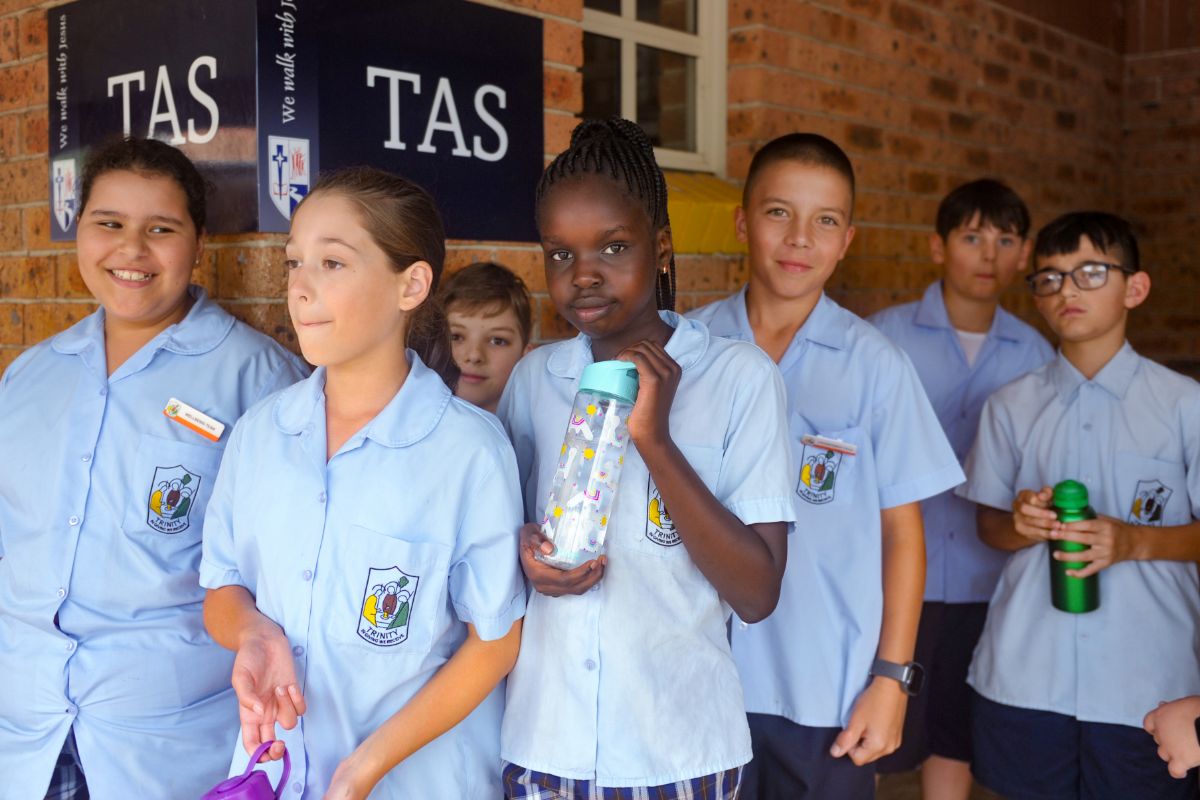 Trinity students have been learning about TAS and getting to know Emmaus student
The transition from primary to secondary school can be a daunting period in any young person's life but a special program enacted by two neighbouring Catholic schools in Kemps Creek is not only improving wellbeing for those facing the big move, it's also helping students at both schools SHINE.
The SHINE project is a collaboration between Emmaus Catholic College and Trinity Catholic Primary - two schools that share the same campus in the growing area of Kemps Creek in western Sydney.
"Aside from creating a stronger bond between our schools, we wanted to relieve some of the anxieties students experience as they prepare for the transition to high school," explained Trinity Catholic Primary School Assistant Principal Matthew Bond. "It stands for Strength, Honour, Integrity, Nobility and Excellence. We also want it to be an opportunity for children to show their skills in a way that isn't purely academic."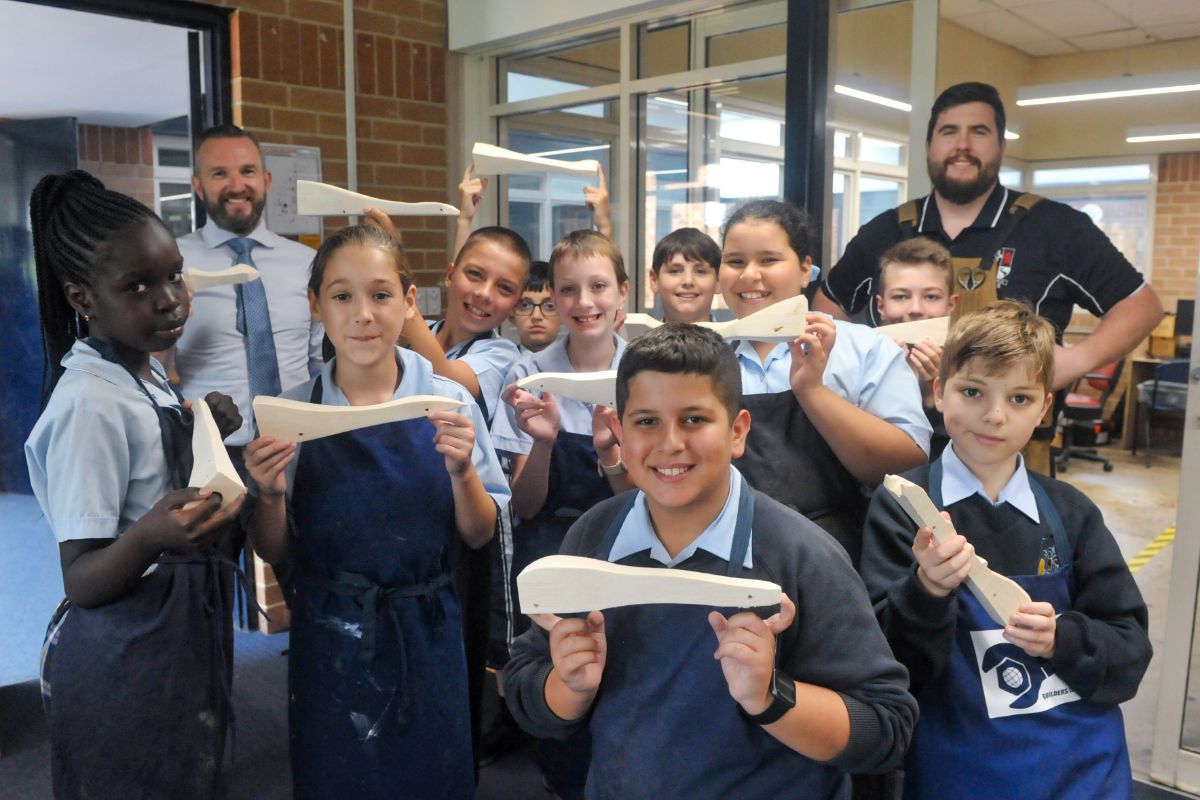 The Trinity students have loved making their CO2 dragsters as part of the SHINE project
The project has been an immediate success with students from both schools enthusiastic to participate, develop great skills and relationships with each other and both schools are seeing added benefits since it began at the start of the year.
"It gives Emmaus students an opportunity to live out the pillars of the College of service and hospitality," said Emmaus Catholic College Assistant Principal Stephen Roberts. "It's been such a positive and uplifting experience for everyone involved."
A small group of students from Trinity Catholic Primary were carefully selected to take part in the first stage of SHINE - a Technical and Applied Studies (TAS) mini-project that involved them walking to Emmaus Catholic College once a week to be taught about TAS from the senior students, specifically designing and creating CO2 dragsters from scratch.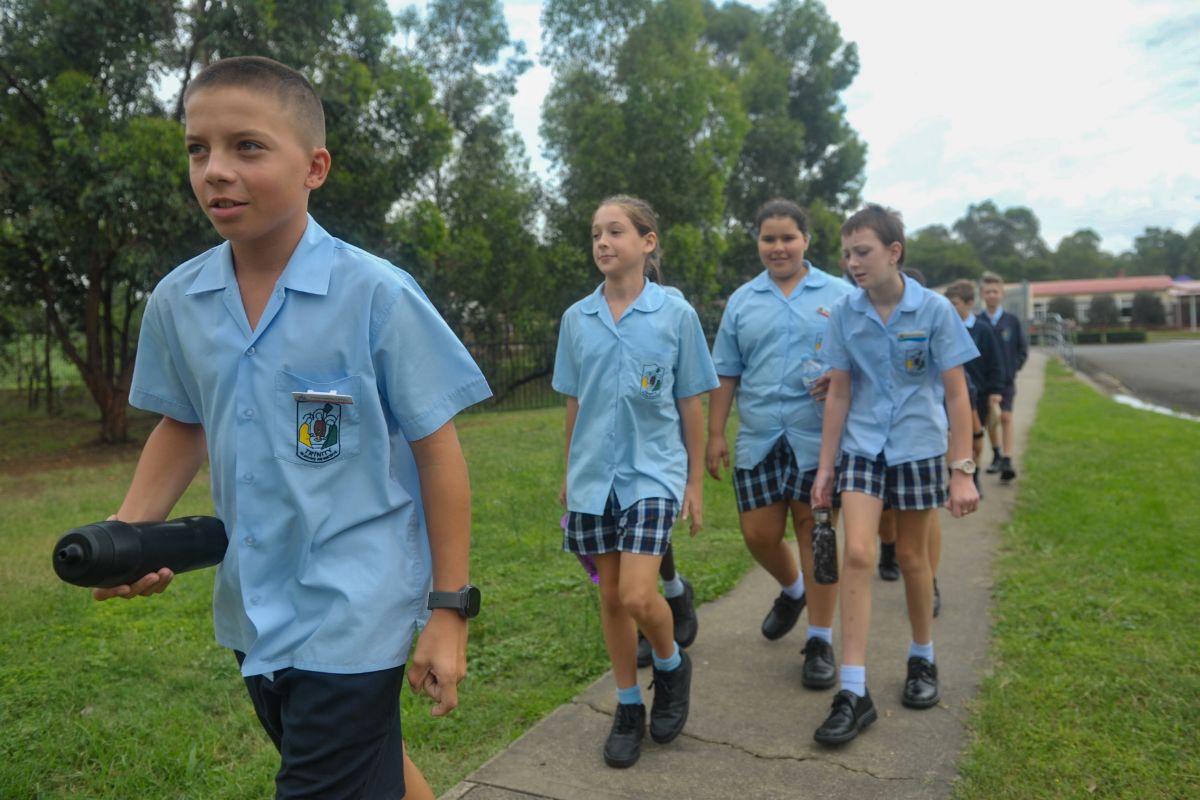 Trinity students make the short walk to Emmaus once a week
"I think it has great benefits for everyone, even myself," added Emmaus Year 10 student Zane. "It's great that I'm able to show the boys and girls different things… something I'm good at. And I think they're learning a lot from it and slowly becoming more comfortable with talking to students older than them. I think that's the biggest thing with transitioning to high school is suddenly going from being the oldest at school to being the youngest."
"It's a little bit scary (the thought of going to high school) but being part of this has definitely helped," said Trinity Year 6 student Jacek. "We've met some of the teachers and worked with some of the older kids and have been able to have a very good experience that not many kids are able to have.
"They are loving the connection with the senior students and teachers and the opportunity to use the resources that only a high school has," said Trinity Catholic Primary School Principal Cathy Hey.
Guiding the students through the basics of TAS has been Emmaus TAS/VET Teacher Sean Joyce and he's been amazed at how the younger students have made the most of the experience.
"I don't get a chance to engage with younger students very often so it's been wonderful to see their eyes light up," said Sean. "To see a kid come in, have a go and build something and be blown away by what the process is and the equipment and machinery we have is really cool. It's refreshing."
With many Emmaus Catholic College students having gone to primary school at Trinity Catholic Primary, it's also served as a wonderful way to reconnect.
"I used to teach some of the Emmaus students in Year 3," said Matthew Bond. "Those students have a connection with me and to Trinity so there's been a strong bond from the start and they've been really nurturing of the Trinity students, helping them feel comfortable and engaged with the project they're doing."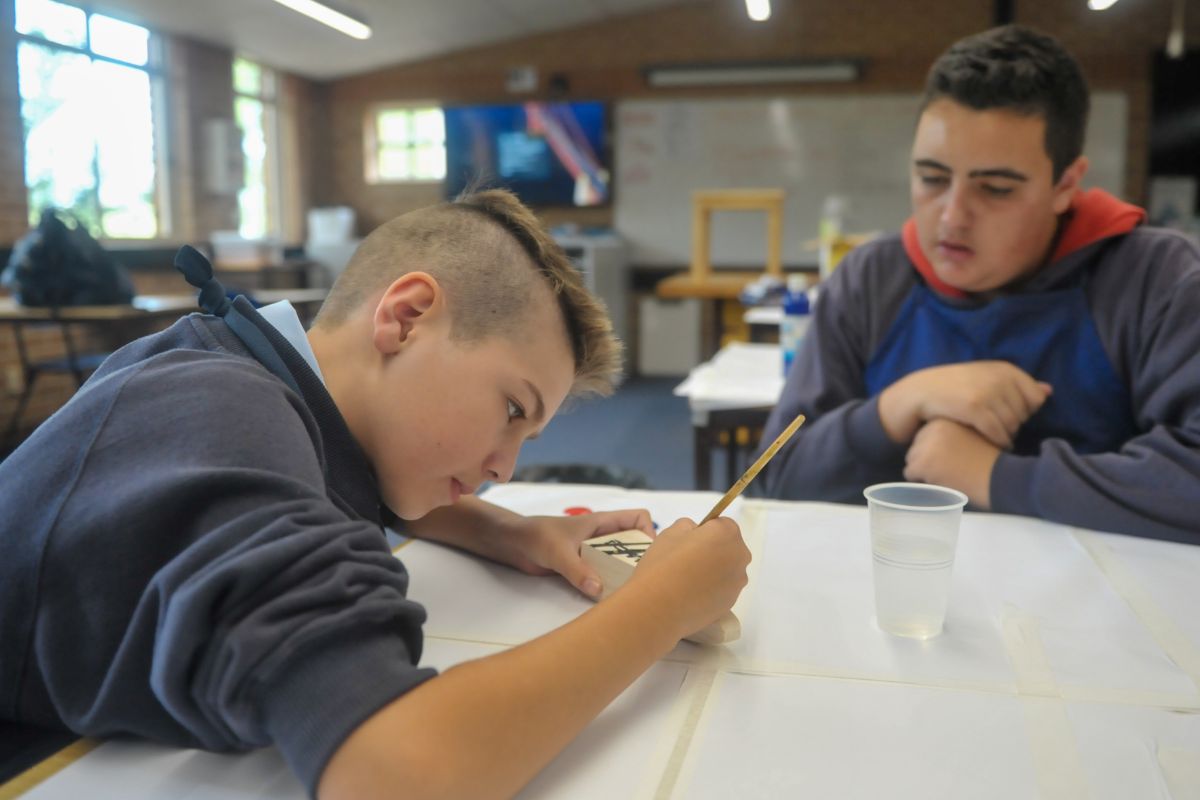 Emmaus student Zane helps one of the Trinity students with his dragster design
"It's been awesome," said Zane. "I know a lot of them from primary school and I have a few friends who have siblings at Trinity so it's really good to help them out. They're picking up everything so easily. They're so intelligent - you can tell they're learning a lot at Trinity and they can come here and show that."
Zane insists having a positive attitude is the key to making the transition to high school easier.
"High school is so fun," he said. "That first year, everything is so new. A bigger class, you're moving around a lot, new subjects, sport, everything about it is awesome so if they've got the skills to take the bull by the horns and make the most of it, it'll be awesome."
He is also keen to share the merits of attending Emmaus Catholic College with younger students.
"Just like it was when I was at Trinity, I find that every teacher is able to engage with every student here at Emmaus too," he said. "You can tell that they put real effort into making sure every student reaches their full potential and you can see it with students all the way from Year 7 to Year 12. The school really tries to give you as many pathways as possible to be successful at school."
It seems the positive vibes are having the desired effect on the Trinity Catholic Primary School students.
"Every time we go there we have fun experiences and it's really nice and it makes me look forward to going to high school," added Trinity Year 6 student Boutras.
"It will help me be more prepared and so I'm not guessing so much about what high school is going to be like," said Alyssa.
"It's helped me boost my confidence for going to high school," added Novana.
Both schools are looking forward to continuing SHINE throughout the year and are considering new staff and students to be involved in a new mini-project in Term 2.
Learn more about Trinity Catholic Primary
Learn more about Emmaus Catholic College
---
View and download all photos from this event