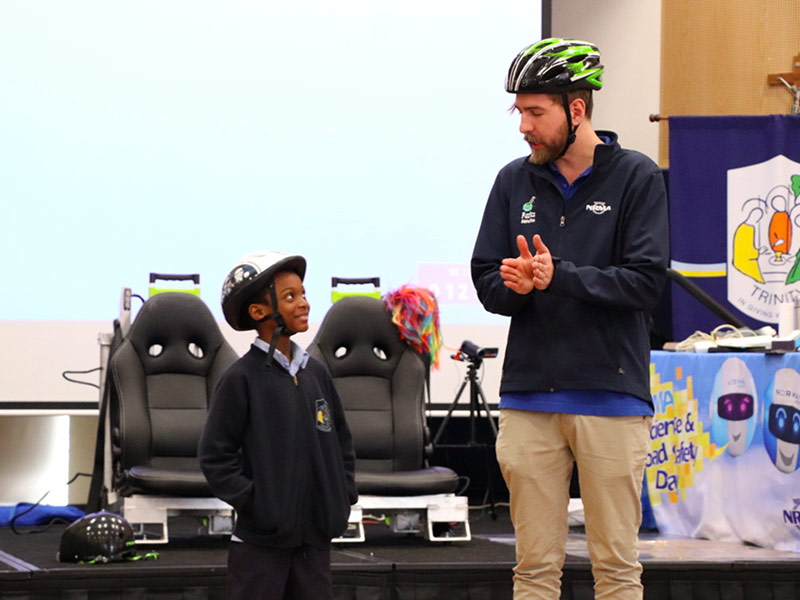 Trinity Primary School students enjoyed their Day of Science and Road Safety thanks to Fizzics Education officer Duncan Bell who made "learning fun!"
What do a hoverboard, a leaf blower and a raw egg have to do with science and road safety? They were all items used during Trinity Catholic Primary's Day of Science and Road Safety which was sponsored by the NRMA.
Students at the school in Kemps Creek were treated to a fun and interactive learning session by Fizzics Education science education officer Duncan Bell, who managed to add a bit of humour into his road safety message which had his young audience in stitches.
The road safety education program focused on increasing the knowledge and skills of students. It combined science demonstrations with visual learning to debunk many of the myths children have about road safety.
"By the time children are at school, most are given the responsibility of putting on their own seatbelt and strapping on their own bike helmet, yet few children actually know how to do this correctly which puts them at risk," Mr Bell said.
Highlights from Year 3 and Year 4 show included a demonstration based on Newton's law of motion and friction using a homemade hovercraft and a leaf blower!
Year 3 student Sabrina volunteered to go on the hovercraft which needed Mr Bell to push it, which turned out to be very exhausting for him. However, with the use of the leaf blower Sabrina was able to hover in front of her peers with ease. Who knew a leaf blower could do that?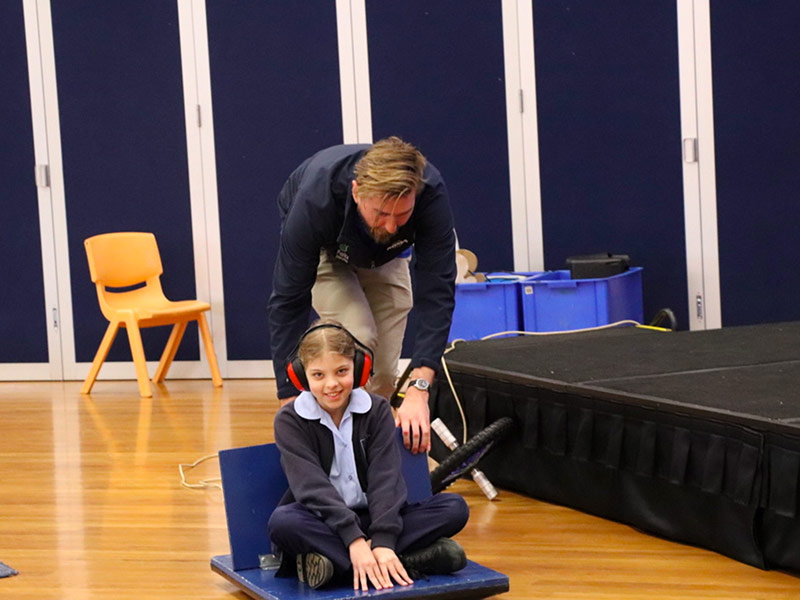 Year 3 student Sabrina said it felt weird sitting on the hovercraft and being moved around by a leaf blower
Sabrina said it felt weird sitting on the hovercraft and being moved around by a leaf blower. "I thought it was very interesting to learn about what it takes to make the hovercraft actually hover," she said.
Teachers and students were then introduced to Egg Bert, a raw egg. Egg Bert had a special role during the Road Safety show, as he demonstrated why seatbelts need to be positioned correctly and what happens to people when a seatbelt is not fitted correctly and a crash happens! It wasn't pretty!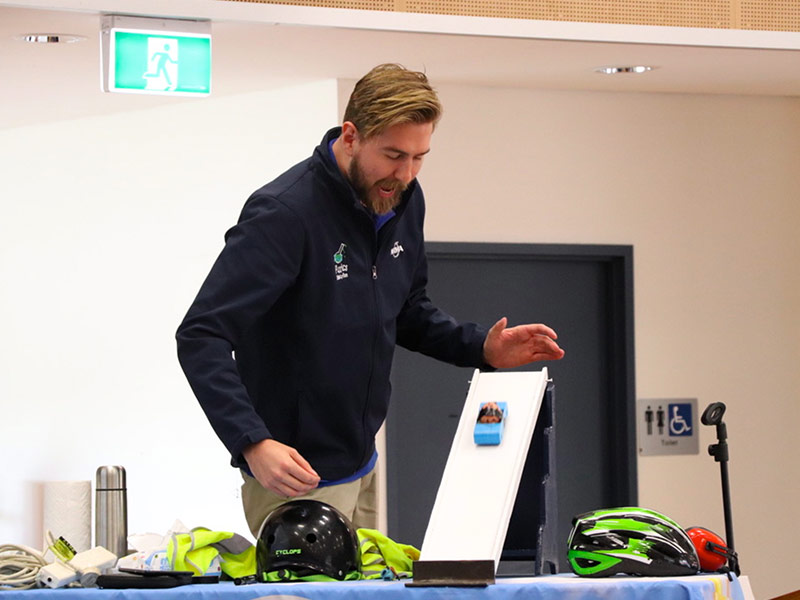 Egg Bert was the star of the show, demonstrating how seat belts work when they are used properly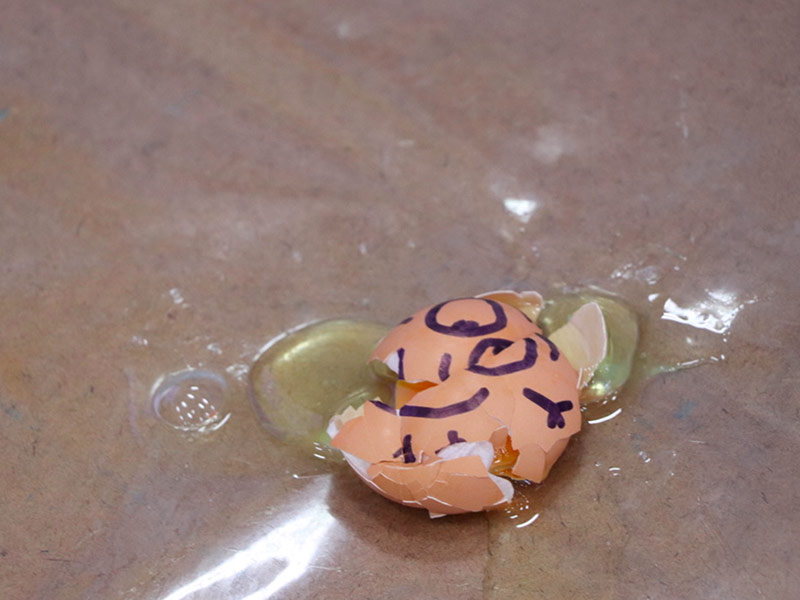 And what can tragically happen when a seat belt is not put on properly in a car crash
Then there was the concentration test. "This activity is designed to demonstrate to the students what it takes to concentrate on driving a car and why it is important not to cause a distraction to your driver," Mr Bell said.
For this demonstration students Nate and Charisma volunteered to sit in two car seats on the stage. Charisma was asked to focus on a special skill test while Mr Bell constantly asked her questions. The audience was asked to count the amount of times Charisma would cause her skill test to light up, demonstrating the amount of times she was distracted if she was driving a car.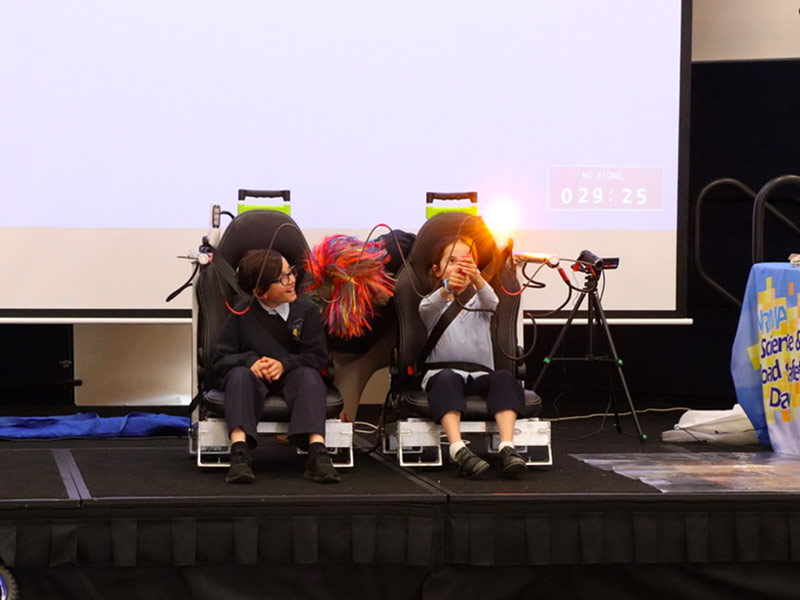 Trinity students Nate and Charisma had their concentration tested during one demonstration
Another highlight of the show was the helmet demonstration, where students were shown an example of different helmets and explained why they are designed differently. Students were also shown how to adjust their helmets to fit properly and why a helmet can only survive one crash.
Year 3 student Ashton said he doesn't usually wear a helmet when he uses his scooter, but after seeing the helmet demonstration he is "definitely going to wear it". While Year 4 student Charlee said he liked how Mr Bell did the demonstrations. "He made learning fun," he said. And Year 4 student Hayden said the show was "very kid friendly".